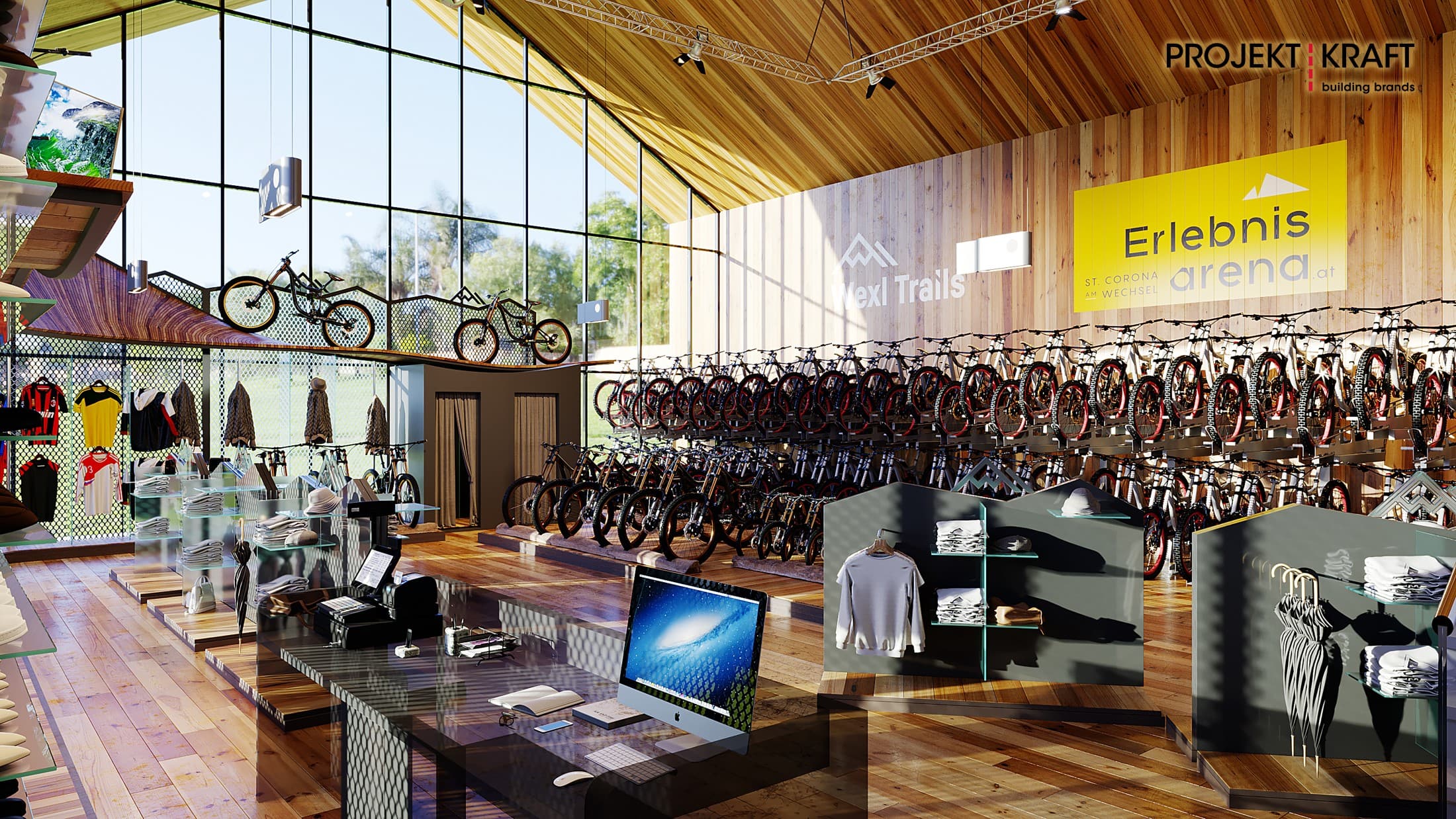 As a bi-seasonal sports and recreation area, the St. Corona am Wechsel adventure arena provides a wide range of family-friendly offers including tobogganing slope, ski school, hiking opportunities, motor skills park, reservoir and bike routes ("Wexl Trails").
However, the heart of the adventure area, which is just under an hour's drive from Vienna, is a multifunctional building that gives space for gastronomic offers, sports equipment rental, workshop, seminar operation, warehouse as well as sanitary and employee areas. In view of the increased demand and the range of functions, however, the building reached its capacity limits. The operators of the adventure arena therefore commissioned the planning and design of a new building to give the bike / ski school and sports equipment rental a new home.
The Projekt Kraft-Team gladly accepted this challenge, revised the existing architectural design for a single-storey building solution and enriched it with alternatives and details. With the draft planning including the definition of room functions, 2D plans and 3D visualization, we finally created the basis for a needs-based expansion.
A two-storey solution was created that adapts the available space to the existing requirements and provides a particularly representative and airy implementation with a shop / rental area without a ceiling. In addition to the bike storage systems, employee, sanitary and workshop areas as well as customer and registration zones on the ground floor, the new design on the upper floor, which is reached via an open staircase, creates enough space for a café / bar terrace as well as meeting and seminar rooms. and administrative operations.
Landscape as a design motif
The storage and rental systems supplemented our planning with specially designed shop furniture. The look and feel of these adapt to the existing buildings and reflect the shapes and contours of the obstacles in the bike park and the surrounding mountains and hills. This visual reference is underlined by using regional larch wood, which rounds off the material mix of glass, galvanized steel and dark MDF.
In order to emphasize the interplay between the building and the environment, the landscape was also brought into the interior of the room by means of large glass fronts. The outer shape combines the typical regional "barn look" with modern design elements that create a visual bridge to the existing building.
To ensure consistent branding, the triangular and diamond shapes of the "Wexl" logo and the existing construction were of course integrated into the design.
The consistently positive feedback from the managing director Karl Morgenbesser confirms this path, because "the renderings were so realistic that customers were there 3 days after the presentation because they thought the whole thing was already there" and thus allows us to look confidently into the future.