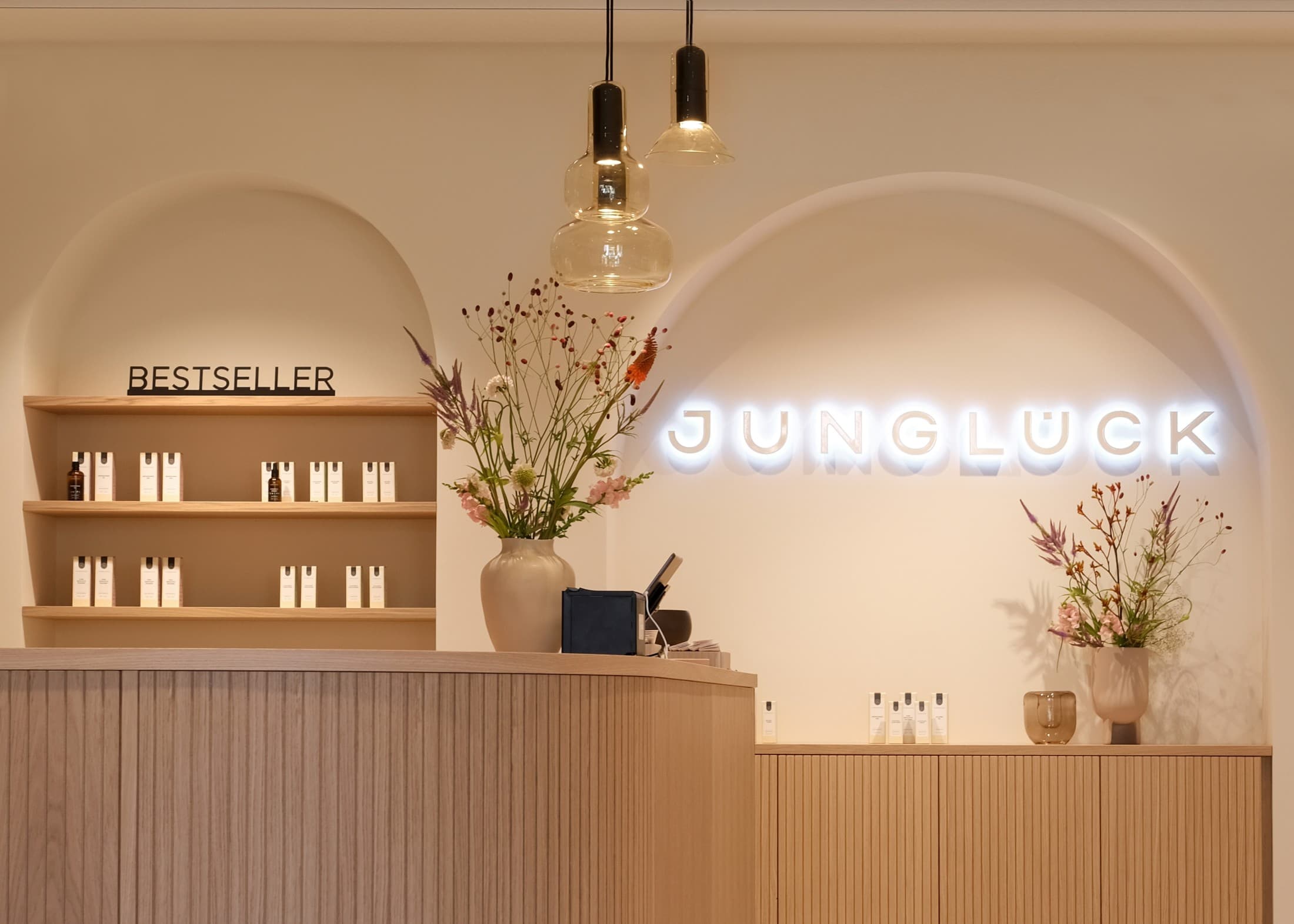 With the opening of a flagship store on Munich's Gärtnerplatz, which combines retail, treatment and office space, the natural cosmetics brand Junglück is opening a new chapter: For the first time, the high-quality products that are already successfully sold online, are now also available in analogue form. It was therefore a special honor for us to be able to accompany the project from the first step through the overall expansion to the opening.
New concept – recyclable materials
In order to get the project on track, the existing ideal concept had to be adapted to the available space, both in terms of price and architecture.
This resulted in a new concept that appeals to a broad, sustainability-oriented target audience with a modern, minimalist look. To correspond to the brand values and corporate philosophy down to the last detail, recyclable materials were used, which create a cozy atmosphere and convey value. The building materials, colors and designs used were selected in joint decision-making processes with our client, which enabled maximum satisfaction with the results and conformity with the appearance of the website. Our Projekt Kraft team also provided support in connection with all bureaucratic aspects associated with the project.
The challenge of monument protection & building in existing spaces
It is obvious that Munich's Gärtnerplatz, with its flair and listed building stock, represents a special project environment. It was therefore necessary to manage the organizational, planning and static challenges associated with the implementation at this location with great care. Since neither walls could be moved nor lines that belonged to residential units and surgeries above the business premises re-laid, the (floor plan) planning had to be done with great sensitivity and respect for the existing architecture: the concept had to be adapted to the circumstances without the giving up specific flair of the chosen design.
In any case, the balancing act was successful: The result is an all-round appealing flagship store that impresses with its sense of quality and great attention to detail.